© Copyright 2012
Easy as 1... 2... 3...
•
Select your school.
•
Insert your Photo.
•
Order!

Showcase your graduate with a customized Graduation Banner!

Class of 2019

We offer unique designs unlike
any others you've seen!

We are
located in the heart of Columbus,
Ohio and have been providing
signage and digital services since
1969.

These terrific personalized graduation banners are the perfect way to
celebrate your child's graduation. Let them know you are

PROUD

of
them. Use the banner to decorate, take it to the graduation ceremony or
party for everyone to see and autograph. This will definately be a
keepsake

with all the student signatures!! Whether you are local or out of
state we can create a unique

keepsake

banner for your deserving
graduate!!
With our cutting edge technology, we can make it fast and easy for you
during this stressful time of the season!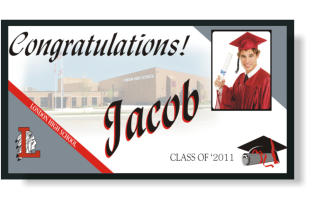 customsigncenter.com